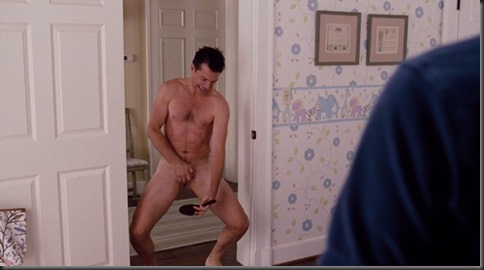 Jason Bateman's Asshole in The Change Up? Well, he is seeing something and it looks like a smile! Unfortunately he has his package hidden from us. Tease! Maybe I will check it out! Replay this scene on slow motion!
Bateman also has a great body when I can tear my eyes away from the mirror image. He has a cute tuft of hair on his chest. He looks sexy wet and a nice set of 6 pack abs.
Bateman got his start in TV in 1981 and then moved to the big screen in 2006. His major roles are romantic comedies. He is good in them.  Well, he is once again back on the small screen in the new show Growing Up Fisher.  Keep your fingers crossed for shirtless scenes!
Check out more male actor's bare asses here!